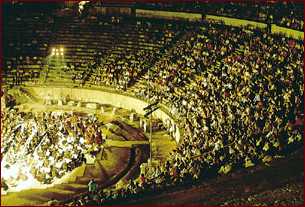 BIBLICAL REFERENCES

The Seven Churches mentioned by St. John in the Book of Revelations (The Apocalypse ) are all found in Turkey and each was a founding community of Christianity.

Smyrna
Revelation : 2:8-11
---
Pergamon
Revelation : 2:12-17
---
Thyatira
Revelation : 2:18-29 Acts 16:14
---
Sardis
Revelation :3:1-6
---
Philadelphia
Revelation : 3:7-13
---
Laodicea
Revelation : 3:14-22
---
Ephesus
Revelation : 1:11:2:1-7 Acts 18:19-28:19
---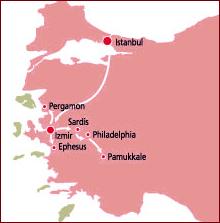 Day 01 Thursday / Istanbul - Izmir
Arrive in Izmir. Meet and transfer to hotel. Visit the Church of St. POLICARP which is the oldest church in ancient Smyrna, it symbolized the community of the Seven Churches of the Apocalypse. Then visit Alexander the Great's "Velvet Castle" overlooking the bay of Izmir.

Day 02 Friday / Izmir - Pergamon - Thyatira - Izmir
Visit Pergamon, the Acropolis and the Asclepion, then drive to Akhisar to visit the Church of ancient Thyatira. Return to Izmir.

Day 03 Saturday / Izmir - Sardis - Philadelphia - Pamukkale
Drive to Sardis, ancient capital of the Lydians and visit the Church of Sardis. Continue to Alasehir where the ancient Philadelphia Church is located. Walk the streets of Philadelphia, thenproceed to Pamukkale, the white "Cotton Castle" with its lime cascades of the Roman spa. See the ancient city of Hierapolis. The Martyrium of St. Philip the Apostle is here. Enjoy a leisurely bath in the hot spring pool of your hotel.

Day 04 Sunday / Pamukkale - Laodicea - Aphrodisias - Kusadasi
Morning visit to Eskihisar, the ancient Laodicea, then drive to Aphrodisias, the city of the Goddess of Love, see the well preserved Stadium, The Temple of Aphrodite, the Odeon, the theater, Agora and Hadrian Bath.

Day 05 Monday / Kusadasi - Ephesus - Kusadasi
Full day visit to the unforgettable remains of Ephesus, the House of Virgin Mary, the Archaeological Museum and the Basilica of Saint John.

Day 06 Tuesday / Kusadasi - Izmir
Transfer to Izmir airport. End of our services.