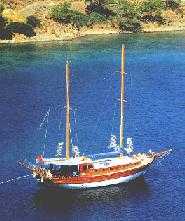 Private yacht charter is perfect for families and larger groups who want that extra flexibility to set their own program. We can arrange the charter of yachts of varying standards including Deluxe and VIP category ones and with different special facilities for groups wishing to define their own route and programme, and to suit whatever budget is available. All we'll need to know is:
Required date and an alternative if possible;
The requirements of the group such as budget, requests for particular on-board features/facilities, (such as, watersports equipment, air conditioning);
Group size and sleeping combinations (single/couple, children, ages);
As a private party, you are free to charter the yacht of your choice for any agreed period of time and you may also determine the route. We can recommend the best of the time you have available. It is up to you how you discover the wonders of blue voyage. You can start with the Göcek Island and bays in Fethiye Gulf on Marmaris route and visit the Tersane Island ( Dockyard Island), Bedri Rahmi Bay (Lycian Bay), Manastir Bay ( Hamam = Cleopatra Bath), Göbün Bay, Merdivenli Bay, At Bükü, Yassica Islands, Göcek, and Ag Limani, reaching Dalyan, Ekincik and Istuzu, the beach of Caretta Turtles. Or you can sail towards Antalya, visiting Gemiler Island, beautiful Ölüdeniz, Patara, Kalkan, Kas and the sunken city Kekova.
We provide only the basics of your voyage's programme and you'll be free to settle details together with the Captain during the cruise. He will be happy to comply with your wishes, weather permitting. Food on board can be supplied full board with an extra charge. Private Charter guests are also welcome to provide and cook their own food if they so wish. And then… All you need to do is drift along from day to day permitting the yacht to take the strain and enjoy the cruise in complete relaxation. It all adds up to the perfect special 'Blue Voyage".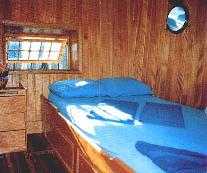 What to bring?

For your belongings, cloth/nylon bags and holdalls are more easily stored in cabins than bulky suitcases. Clothing wise, swimming and casual clothes will be most useful to you whilst you are on board. We recommend that you bring with you a sound pair of sports shoes, and a sweater for early and late season evenings. You will also need to bring your own towel.

Food and beverages
Turkish cuisine is ranked among the world's top cuisines - right there after French and Chinese. Fresh vegetables and fruit are plentiful, deliciously fresh and lusciously sun-ripened. Bread is a particular treat - freshly baked every day and dangerously more-ish!
Whilst on board, your day will start with traditional Turkish breakfast, consisting of fresh bread with cheeses, olives, honey and jam, yogurt, tomatoes and fruit. A light lunch is next in line - with perhaps stuffed aubergine, rice and salad one day, and savoury pastries stuffed with meat or cheese (börek), accompanied by the traditional combination of yogurt, salt and water known as ayran, the next day. Afternoon tea takes place around 5 pm. After an early evening nap, dinner concludes the day with traditional mezes, freshly grilled seafood and meats, salads and fruit to finish as the sunsets and stars come up. You might want to try to catch your own fish for a barbecue on board or on the shore - as with everything on a gulet cruise, flexibility is the key. Local drinks are excellent accompaniments to dinner - try raki with water and ice for a traditional & highly intoxicating touch, local beer for extra refreshment, or perhaps one of Turkey's range of home produced wines. You can buy all kind of drink from the bar on board or Private Charter guests are also welcome to provide their own beverages.